Mona Lisa is the 18th episode of NCIS Season 16 and also the 372nd episode of the entire NCIS series.
Synopsis
Torres relies on his team's investigative skills after he wakes up on a dilapidated fishing boat, covered in blood and unable to remember the last twelve hours with the team later finding the body of a dead woman under Torres's bike and Torres soon realizing that it might be connected to a case he was part of concerning the seizure of uncut diamonds.
Prologue
Act One
Act Two
Act Three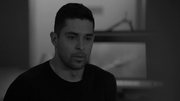 Act Four
Act Five
Major Events
Gibbs has yet to visit Ziva's private office since the last time they visited.
It is revealed that Wesley Clark's spying on Leon Vance was extended in order to verify whether he could be trusted with investigating Secretary of Defense Crawford for embezzlement.

In addition, Leon Vance deduced that his current date was spying on him.

Mallard's Historian office has been fully created.
Trivia
Cast
Series Regulars
Recurring Cast
| Name | Portrayed by | Role |
| --- | --- | --- |
| Westley Clark | Scott William Winters | CIA Officer. |
| Mallory Madden | Dionne Gipson | CIA Officer, assigned to date Vance. |
Other Cast
| Name | Portrayed by | Role |
| --- | --- | --- |
| Sam Hendrix | Adam J. Harrington | Coast Guard Commander. |
| Jordan Peralta | Aaron O'Connell | Torres' personal trainer. |
| Nena Easterling | Tania Nolan | Civilian Employee and Commander Hendrix's assistant. She was involved in the smuggling of uncut diamonds, the drugging of Agent Torres, and the murder of co-conspirator Jessica Ho. |