Spider-Man: No Way Home Trailer Dropped - The Loop
Play Sound
Moonlighting is the twentieth episode in NCIS Season 7 and the 158th episode of the entire NCIS series.
Synopsis
NCIS and the FBI join forces after NCIS's polygraph operator lands a night job that results in the death of a Naval Officer.
Prologue
As the Black Eyed Peas- Missing You plays in the background, Petty Officer Scott Roebuck jogs along a pier.
He then stops to grab a breather.
Suddenly, a man is heard screaming, "Help! Help me!".
Roebuck then looks over as the voice yells, "Help, anybody! Help, please!" with the voice adding, "Oh, God, help me!".
Roebuck glances over and realizes that it's coming from behind a warehouse.
"I'm coming. Hang on", Roebuck shouts. "I'm coming".
"Please help", the voice begs.
Roebuck runs to where he heard the voice but instead finds a masked man aiming a pistol at him.
Seconds later, the man fires a single shot into Roebuck's chest, the wound causing Roebuck to fall to the ground.
Roebuck lies on the ground, wounded and gasping for air.
It then cuts to a close-up of the gun which fires another shot seconds later, this time killing Roebuck.
Act One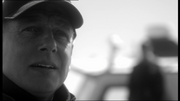 Act Two
Act Three
In the Evidence Garage, Abby is busy giving out instructions via a megaphone, stating all non-combustible items are to be put on the left but if it's fried, the evidence is to be put in the right and mark a big "O" on anything organic.
As this happens, McGee is busy producing a box from the boot of an NCIS Dodge Stratus with McGee asking Abby if she really needs that thing.
"Need, McGee", Abby says. "Where is there not to need, McGee? Don't be so limited".
Act Four
Act Five
Cast
Series Regulars
Recurring Characters
Other Cast