Nate Getz is a Psychologist for the NCIS Office of Special Projects and also an NCIS Special Agent.
Biography
Pre-Series
Nate's specialty is psychology and he holds both a Master's and Doctorate degree in the field of psychology.
He observes surveillance tapes and watches/handles interrogations in order to make a psychological profile. He is also responsible for performing periodic psychological evaluations of the Office of Special Projects field agents and support personnel and to provide ongoing monitoring of their mental health. He is afraid of disobeying orders from Hetty Lange and finds her scary. The OSP Team often fails to get his humor, for example, in the Episode: The Only Easy Day when he states: "What has the world come to when drug dealers aren't even safe within the comfort of their own fortified homes?". He states in the Episode: Callen, G., that he was abducted by aliens as a child.
NCIS Season 6
Nate made his debut appearance in the NCIS Season 6/NCIS: Los Angeles backdoor pilot episode, Legend (Part 1).
NCIS: Los Angeles Season 1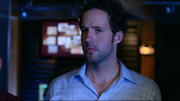 In the Episode: Chinatown, Nate expresses his interest in becoming a Field Agent which is highly discouraged by the OSP Team because of his inept field skills. He asks Hetty if she can think of any Operational Psychologist who has become a Field Agent; however, when she shares that the only known such person died on his second week of field work, Nate gets a little iffy about his choice.
NCIS: Los Angeles Season 2
Nate has received training in both field craft and hand-to-hand combat, as demonstrated on several occasions in the episodes: Lockup and Harm's Way. Nate's departure as the main cast member coincides with Nate's reassignment to the Middle East to investigate an Islamic extremist group based in Yemen. With the conclusion of that mission in the Episode: Harm's Way, Nate's current assignment is classified, although it is known that he is remaining in the Middle East for the time being.
NCIS: Los Angeles Season 3
Nate returned to Los Angeles in the Episode: Patriot Acts where he helped The OSP Team locate a domestic terrorist responsible for planting a bomb somewhere in the city.
NCIS: Los Angeles Season 4
Nate returned in the Episode: Paper Soldiers at Hetty's request.
NCIS: Los Angeles Season 5
NCIS: Los Angeles Season 6
In the Episode: The 3rd Choir he helps Nell to cope with her first kill.
NCIS: Los Angeles Season 7
NCIS: Los Angeles Season 8
NCIS: Los Angeles Season 13
In Episode: All the Little Things he meets Kilbride for the first time. Kilbride has a few questions for him. Kilbride knows that Nate has run ops for Hetty off the books on numerous occasions, he wants to knows what she has gotten herself into. Nate knows that Hetty was in Syria meeting with al-Qaeda leaders to negotiate the release of some hostages. He was profiling the leaders to help her.
Kilbride wants some professional insight into the team, more specifically Callen and his reaction to the program he was apart of as a child.
Personality
Physical Appearance
Nate is a man in his mid thirties with curly black hair and brown eyes.
Abilities