Neighborhood Watch is the twenty-second episode of NCIS: Los Angeles Season 3 as well as the 70th episode of the entire NCIS: Los Angeles series.
Synopsis
To find and arrest a Russian sleeper agent hiding in a quiet neighborhood, Deeks and Kensi go undercover but soon discover that some of the residents aren't as perfect as they appear to be.
Plot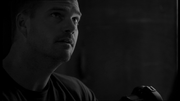 Major Events
Deeks and Kensi share their first unofficial kiss.
Cast
Series Regulars
Recurring Cast
Other Cast