We're Getting Mutants in the MCU - The Loop
Play Sound
No Good Deed is the twentieth episode of NCIS Season 12 and also the 278th episode of the entire NCIS series.
Synopsis
The NCIS team investigate the murder of a Marine and soon discover that the murder weapon used in the killing was originally purchased for the controversial ATF sting operation "Operation Fast and Furious", prompting DiNozzo to be partnered with his girlfriend, ATF agent Zoe Keates while DiNozzo Senior arrives in D.C. for a special dinner with both Tony and Zoe.
Prologue
In an area in Virginia, people are busy collecting trash and dumping them into plastic bags.
Among them is an Older Man.
Gary states to the man that this is exactly what he wanted to get up at 6am to do.
The older man doesn't reply.
Gary complains that he got 80 hours of community service for a bogus shoplifting charge. He wonders what the older man got with the man replying that he got thirty days.
Gary wonders what the man did.
As the man keeps out putting trash into his plastic bag, Gary wonders if the man hangs out at the Cobra Room on Tate Street?
"I assure you, never", the man replies.
Gary remarks that he swears he's seen the man somewhere.
Seconds later, Gary realizes that the older man is the Senator who got busted for ordering up a hooker.
The older man snaps that he's a Congressman.
Gary remarks that at least the hooker was fly, though and that he saw both their mug shots on TNZ.
"Congressman", the old guy replies.
He then stops, staring at something.
It's shown that a bike motorcycle lies there in the grass, on its side.
"Hey, boss!", the old man calls. "You'd probably better take a look at this".
Gary, the older man and another African-American man approach the scene to examine things.
It then cuts to show a man who has bruising all over his face lying there in the grass just a few meters away from the motorcycle.
Act One
Act Two
Act Three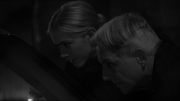 Act Four
Act Five
Cast
Series Regulars
Recurring Cast
Other Cast