Nonstop is the 14th episode of NCIS Season 14 and also the 320th episode of the entire NCIS series.
Synopsis
The murder of a Petty Officer in a small town outside D.C. prompts NCIS to once again work with "The Sherlocks", a privately funded investigative team that includes their newest member: Anthony DiNozzo Senior.
Prologue
Act One
Act Two
Act Three
Act Four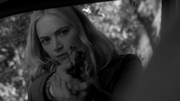 Act Five
Major Events
Torres meets the Sherlocks for the first time.
Anthony DiNozzo Senior returns and it's revealed that he's joined the Sherlocks and also been promoted to formal member.
Cast
Series Regulars
Recurring Cast
| Name | Portrayed by | Role |
| --- | --- | --- |
| Anthony DiNozzo Senior | Robert Wagner | The father of former NCIS Special Agent Anthony DiNozzo. |
| Walt Osorio | Richard Riehle | Member of The Sherlock Consortium for Investigation. |
| Judith McKnight | Jessica Walter | Member of The Sherlock Consortium for Investigation. |
| Lyle Waznicki | Todd Louiso | Member of The Sherlock Consortium for Investigation. |
Other Cast
| Name | Portrayed by | Role |
| --- | --- | --- |
| Michael Kettering | Nick Jandl | Husband of the victim and killer. |
| Taj Robinson | Steven Cox | Alarm system box installer. |
| Darlene Jones | Austin Highsmith | Victim's husband's fiancée. |
| James Shelty | Michael Broderick | Navy Commander. |
| Cheryl Dombrowski | Kristina Klebe | Navy Lieutenant. |
| Zeke | Hermie Castillo | Pizza delivery man. |
| Cameron Mann | Russell Nauman | Kettering's decoy. |