Obsession is the twenty-first episode in NCIS Season 7 and the 159th episode of the entire NCIS series.
Synopsis
A Navy Lieutenant dies but the NCIS team are completely stumped as to what killed him. As they go searching for answers and the killer, Tony becomes fascinated with the dead Lieutenant's sister.
Prologue
An ambulance arrives outside a hospital, its sirens blaring.
Two medical personnel rush forward and open the back doors as the medic informs them that it's a heart attack, BB 88 over 62, pulse 98.
One medic states "All right. Okay. Steady. Steady. We'll place him down".
As he says, both medics drag the stretcher containing the man onto the ground.
As this happens, the main doctor tells them to be careful before wondering if they've got him.
"Got it", the medic replies.
Meanwhile, a car driving at a dangerous high speed limit races into the car park and it's showing no signs of stopping.
"Look out!", one medic yells.
"Oh my God", a nurse shouts.
"Get him out of the way", the doctor orders. "Go, go, go".
They manage to get the patient and themselves out of the way mere seconds before the car crashes into a parked car.
As the doctor and nurse still tend to the heart attack patient, the medic rushes over.
It then cuts to the medic who's busy examining the driver who's wearing an uniform associated with the United States Navy.
Act One
Act Two
In the bullpen, with a photo of Dana on the monitor, Tony remarks that someone tossed Dana's place pretty good, looking for something.
Ziva remarks that Metro are processing her apartment and that they're going to co-ordinate with NCIS.
Act Three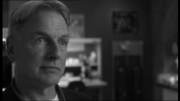 Act Four
Act Five
Cast
Series Regulars
Recurring Cast
Other Cast