Jurassic World: Dominion Dominates Fandom Wikis - The Loop
Play Sound
Oil and Water (or "Oil & Water") is the sixth episode of NCIS Season 11 and the 240th episode of the entire NCIS series.
Synopsis
A suspicious explosion on board an oil rig which results in the death of a Marine has NCIS reuniting with the Coast Guard Investigative Service (CGIS), most notably CGIS agent Abigail Borin as they seek to investigate and determine who is responsible for the explosion while the NCIS team find themselves being targeted by a mysterious prankster.
Prologue
At an oil rig late at night, an alarm begins blaring.
"Force protection alert", Marvin Hebner says via a phone before stating that that it's confirmed a hostile target is approaching inbound.
In the rig, as various workers prepare for the danger, the man via a PA says to initiate emergency evacuation procedures.
Operations Officer Jonah McGuire is yelling at his people to move as the PA states that the safety perimeter has been breached.
In the room, the man glances at the screen and states that it's sixty seconds to impact and that all personnel go to the lifeboat deck.
Up on the deck, McGuire is busy counting the crew, reaching 58 so far. He urges Lenny Machaca to come on and once Machaca has arrived, McGuire talks to a walkie-talkie, stating that fifty-nine souls accounted for and that they should stop the clock before stating that it's three minutes, forty seconds.
"Copy that", Marv replies and that the drill is complete.
He then hangs up the phone, revealing that this "evacuation" was in fact a drill.
Outside, McGuire looks at Machaca, stating that was pathetic and that McGuire himself could have crawled down here faster.
Machaca tells McGuire or Ops to lighten up and that it's just a drill before wondering if they're done because the chow's getting cold down there.
McGuire lets Machaca go.
Seconds later, an explosion rips through the left part of the oil rig with everyone yelling and shouting, having been caught off-guard by the blast.
On the PA, Marv yells that there's an explosion on the bridge and states that this is NOT a drill.
Everyone begins scrambling for the ladders.
It then cuts to McGuire who looks on, stunned.
Act One
NCIS Forensic Scientist Abigail Sciuto rushes into the bullpen, stating to her ex-boyfriend and fellow NCIS colleague, NCIS Special Agent Timothy McGee that she thought that they'd agreed to no midnight pranks this year.
Act Two
Act Three
Act Four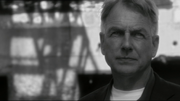 Act Five
Cast
Series Regulars
Recurring Cast
Other Cast