Wiki Targeted (Entertainment)
Play Sound
Once Upon a Tim is the 14th episode of NCIS Season 16 and also the 368th episode of the entire NCIS series.
Synopsis
McGee reluctantly visits his old high school after the unique computer password he used as a teenager is linked to the murder of a department of defense contractor. The case escalates when an intruder breaks into McGee's home in an attempt to steal his archaic high school computer.
Prologue
Act One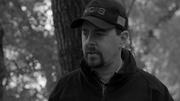 Act Two
Act Three
Act Four
Act Five
Major Events
Tim, while angered at his father for burning his tap shoes, crafted a virus to target the Department of Defense. The virus was later copied and tampered by his old flame Chloe to deposit rounding errors in accounting into a holding account.
Tim's dreams, aside from writing books, had also entailed tap dancing.
John McGee was revealed to have had desires to be a tap dancer just like his son.
Tim was forced to admit to Delilah about the events of What Lies Above (episode) thanks largely to Nicholas Torres and James Palmer.
Ellie makes a reference to the events of She (episode) when she says she is in no mood for secrets after learning Ziva David is still alive and is forced to keep it a secret.
Trivia
This episode is billed as the 367th episode, airing after the 368th. Despite this, however, the episode references the events of She (episode) despite it technically occurring after this episode.
The original air date was the 12th of February. However, due to the State of the Union address, the previous episode will air on the 12th, pushing this episode back to the 19th.
In What Lies Above at the end of the episode McGee hangs ends a call with Delilah and mentions that he had told her about the previous shooting and everything that had happened in their apartment. However this episodes seems to contradict this. As it is never mentioned in the episode there is no way to know if this was an oversight or McGee had lied to the team about telling Delilah.
Cast
Series Regulars
Recurring Cast
Other Cast