Jurassic World: Dominion Dominates Fandom Wikis - The Loop
Play Sound
Once a Crook is the fifth episode of NCIS Season 11 and the 239th episode of the entire NCIS series.
Synopsis
As the team investigate the murder of a Petty Officer, Tony who's suffering from sleep deprivation that has been triggered as a result of Ziva's abrupt and permanent departure from the NCIS team soon realizes that the main suspect in the case involving the murder of a Petty Officer could be connected to a fifteen year old case that he investigated while working as a cop for the Baltimore Police Department.
Prologue
In a forest that's shrouded in mist, Petty Officer First Class Andrew Wells runs out of a small area before stumbling with Wells soon losing his balance and falling.
Wells glances around, panting, the running obviously taking its toll on him.
He then gets up and starts running again.
As he does that, Wells runs past a lake and crawls through some bushes before eventually reaching a lone road.
He then stops upon seeing a car there, its engine on.
Seeing a chance, Wells runs forward.
In the car, Martha states that he lives there.
"Well", her husband, George says.
Martha tells him he's acting like a child.
He tells her "Martha, please" and that if she cares about him at all, she'll let him figure it out on his own.
Meanwhile, Wells edges closer.
As that happens, a man emerges from the bushes and shoots Wells in the back.
As opera continues playing in the car, Martha, unaware of what's just happened tells her husband to just drive with her husband thanking her.
Seconds later, they drive off.
It then cuts to show Wells lying on the stretch of road, dead, the bullet wound in his back still visible.
Act One
Act Two
Act Three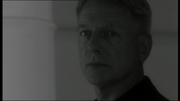 Act Four
Act Five
In Interrogation, Gibbs reveals to Spoke that two nights ago, Petty Officer Wells was attacked at Marie Markin's house.
Major Events
It's revealed that DiNozzo has been battling insomnia for at least half a week.
Cast
Series Regulars
Recurring Cast
Other Cast