Outlaws and In-Laws is the sixth episode in NCIS Season 7 and also the 144th episode of the entire NCIS series.
Synopsis
The bodies of two dead men on board a boat Gibbs made shows up in San Diego Harbor, prompting Gibbs and Vance to head to Mexico to investigate while Gibbs soon discovers that his mentor and his mentor's family may be in great danger.
Prologue
On board a ship which has alarms blaring, NCIS Special Agent Isabella Cortez asks Commander Casey Kilmartin if there's always this much excitement before they've left port.
Kilmartin remarks, "What can I say? We like to keep on our toes".
They then head out to the outside area of the ship where a man over a P.A. states that this is their final warning and that they should identify themselves immediately.
They reach the end of the ship, stopping at some railing.
Via a walkie-talkie, Kilmartin tells someone to put a light on them.
As this happens, a boat, presumably that of the Coast Guard then casts a huge light onto a boat.
Cortez states that it's just a small sailboat and that it must have slipped around the curtain while Kilmartin looks through some binoculars.
Kilmartin tells her that it looks like a hand-built Amigo Kit but that they don't have to worry about it being an attack.
He then lowers the binoculars, remarking, "Unless they suicided a little early".
Kilmartin then hands the binoculars to Cortez who looks through them.
Through the binoculars, it's shown that the boat has two bodies on it, causing Cortez to grimly state that it's a bloodbath.
Via a walkie-talkie, Kilmartin tells someone to get divers in the water and to wrangle that craft before stating that it's a crime scene.
He then states that it looks like it's got Cortez's name on it.
Cortez who's been standing there, holding the binoculars remarks that it's not her name but it is labelled.
It then cuts to the end of the boat, revealing that the name on it is "Kelly".
Act One
Act Two
Act Three
Act Four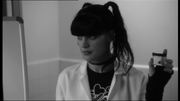 Act Five
In the bullpen, at Gibbs's desk, Mike is finishing his statement when Gibbs pulls it away, causing Mike to warn Gibbs to be careful because Mike has been writing on this thing all day before Mike states that he was just about to sign it.
Major Events
Col. Merton Bell, the President and CEO of First Defense Incorporated is introduced for the first time.
Ziva reveals that she has begun studying for her citizenship exam as she wishes to become an American citizen so she can stay as an NCIS Agent.
Cast
Series Regulars
Recurring Cast
Other Cast