Pandora's Box (Part 1) is the 15th episode of NCIS Season 14 and also the 322nd episode of the entire NCIS series.
This is the first part of the two part crossover between NCIS and NCIS: New Orleans.
Synopsis
After Abby's homeland security think-tank is compromised and she is later found in be possession of a real bomb while participating in an undercover operation for Homeland Security at a rock concert, the NCIS team investigate and subsequently discover that the leader of the group has been murdered and a theoretical terror playbook has been stolen.
Prologue
Act One
Act Two
Act Three
Act Four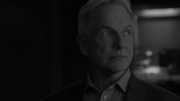 Act Five
Major Events
It's revealed that Bishop's middle name is Raye.
Trivia
Scott Bakula and Lucas Black are credited as "Special Guest Stars".
Cast
Series Regulars
Recurring Cast
Other Cast
| Name | Portrayed by | Role |
| --- | --- | --- |
| Earl Goddard | Barry Shabaka Henley | Security Specialist of Homeland Security. |
| Knox Ellicott | Alex Carter | Operations Director of Homeland Security. |
| Greta Fensternacht | Julia Whelan | Scientist from Centers for Disease Control and Prevention (CDC). |
| John James Axiom | Desmond Askew | Film director |
| Phil Kurjak | Brian Elerding | Logistics Manager of Homeland Security and Earl's killer for trying to stop him into killing Dezic. |
| Unnamed Metro Police Department Officer | Greg Collins | Police Officer with the Metro Police Department. |
| Jovan Dezic | Unknown actor | Bosnian Foreign Affairs Minister. |
| | Gavin Leatherwood | Jovan Dezic's son. |