Patience is the nineteenth episode of NCIS Season 12 and also the 277th episode of the entire NCIS series.
Synopsis
The NCIS team investigate the murder of a Petty Officer and McGee soon discovers that the death is connected to a bombing that occurred at an airport forty years ago, one that Gibbs, DiNozzo and Vance have been secretly working on for the last two years.
Prologue
In D.C., three prostitutes are talking with one, Chrissy stating that Pluto ain't a planet.
"Since when?", Heather asks.
"Since the IAU said so", Chrissy replies.
"The who?", Lolita Cortes wonders.
Chrissy states that it's a bunch of pencil necks who make the rules.
As a lone car arrives, Heather states that they don't make the rules for her and that she's going with planet.
Heather then tells that speaking of pencil necks, someone has their eye on Lolita. She also asks Lolita if the guy knows who the IAU are.
As her friends look on, Lolita approaches the car.
The driver then rolls the window down.
"Looking for some fun?", Lolita wonders.
"That works", the driver replies before silently gesturing at her to get in.
Lolita heads over with the driver unlocking the door for her.
Once she's in the car and with the door closed, Lolita tells the driver that he's late but that before they can go anywhere, she needs to know that he can protect her and her family.
The driver tells her that she's safe now and that he'll make sure that her family is too.
Lolita tells him that he doesn't know these people and that he doesn't know what they can do.
"Oh, yeah, we do", the driver states before telling her that's why he's here and that she should trust him because she's safe.
Suddenly, a car is heard approaching, its tyres screeching loudly.
"Get down!", the driver yells.
Seconds later, multiple gunshots hit the car, striking everything inside and hitting both Lolita and the driver before the gunshots stop altogether.
It then cuts to the car where both Lolita and the driver are sitting there, dead.
Act One
Act Two
Act Three
Act Four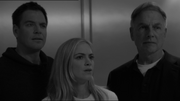 Act Five
Cast
Series Regulars
Other Cast