Spider-Man: No Way Home Trailer Dropped - The Loop
Play Sound
Prime Suspect is the seventeenth episode of NCIS Season 10 and the 227th episode of the entire NCIS series.
Synopsis
A media frenzy surrounding an unidentified criminal prompts Gibbs's barber to question his estranged son's involvement and ask for Gibbs's help in ruling out his son as a prime suspect but the case takes a turn when the team discover that the original killer is dead, leading them to suspect that a copycat may be responsible for the recent killings while Ned Dorneget returns.
Prologue
A young woman, Chloe Chandler is busy having a shower.
As this happens, the door then creaks open as someone arrives in.
In the shower, Chloe stops, having heard something although she resumes showering seconds later.
Outside, as the figure edges closer, a cat emerges from the bathroom and leaps onto Chloe's bed as the figure moves closer to the bathroom.
In the shower, Chloe, having finished switches off the shower line before running a hand through her hair. She then grabs a big towel from the ring and spends the next few seconds wrapping it around her body.
Outside, the figure gets nearer to the bathroom.
Inside, Chloe steps out of the shower, heading for the mirror before she wipes the steam away with her right hand.
As she does that, Chloe then pauses upon seeing rings or bags under her eyes which has her examining them and then standing there in disbelief.
Suddenly, the door opens, startling Chloe.
She then watches horrified as the figure enters the room, wielding a knife.
Chloe screams as she is stabbed (off-screen).
Inside, the figure continues stabbing Chloe.
It then cuts to the cat who sits on the bed, hissing.
Act One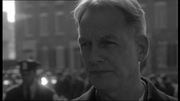 Act Two
Act Three
Act Four
Act Five
In the bullpen, Tony states that he should get this straight and that while he and Dorney were away, the guys (McGee, Ziva and Ducky) got involved in the Dead Rose Slasher case?
Cast
Series Regulars
Recurring Cast
Other Cast