Jurassic World: Dominion Dominates Fandom Wikis - The Loop
Play Sound
Psych Out is the sixteenth episode in NCIS Season 9 and the 202nd episode of the entire NCIS series.
Synopsis
A high-level security Naval reservist is found dead, forcing the NCIS team to investigate and determine if the death is really a suicide or murder.
Prologue
Wade and Derek, two robbers successfully enter a home by smashing the window of the back door, enabling them to gain access.
As they enter the kitchen, closing the door, Derek realizes that the light's still on and asks Wade if he cut the alarm.
Wade remarks that he cut the phone line. He also goes on to say that detectors won't signal the cops and that they're cool.
The two then continue into the main area of the house, carefully closing the door.
Suddenly, they stop upon hearing footsteps coming from upstairs.
Wade stops Derek with Wade asking Derek if he heard that.
They pause upon hearing the sound of a chair scraping against the floor.
Derek realizes that someone's up there.
Wade wonders if Derek's cool.
"No problem", Derek replies, holding up a small pistol.
The two then reach the stairway and plan to go up the stairs but Derek gets a shock when a body lands in front of him, causing both Derek and Wade to fly back against the wall, Derek shouting "What the Hell?" and firing two shots at a man.
Wade angrily wonders what Derek is doing.
Derek protests that the guy came out of nowhere.
Wade insists that they gotta go.
He then yells at Derek again which this time gets a response with the two fleeing with Derek muttering, "Oh my God".
With that, the two flee.
It then cuts to the man who hangs there, a rope around his neck, his expression full of puzzlement.
Act One
NCIS Special Agent Anthony DiNozzo arrives into the bullpen in an unusually good mood.
His partner, fellow NCIS Special Agent Ziva David wonders why Tony's preppy.
Act Two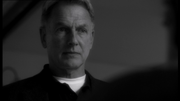 Act Three
Act Four
Act Five
Major Events
Dr Samantha Ryan is introduced for the first time.
Trivia
Jamie Lee Curtis is credited as a Special Guest Star.
Cast
Series Regulars
Recurring Cast
Other Cast