Recoil is the sixteenth episode in NCIS Season 5 and also the 110th episode of the entire NCIS series.
Synopsis
Ziva's undercover assingment which consists of her trailing a serial killer suspected of having killed five women while cutting off their fingers and preserving them as trophies goes horribly wrong when the man she's tracking becomes suspicious of her, forcing Ziva into a life or death situation. As Ziva tries to come to terms with what she's done, the team soon realize that Hoffman might have a partner which leads them to search for the supposed copycat killer.
Prologue
As blood swirls down a bathroom sink, Andrew Hoffman is busy washing his hands and then he turns off the water before he touches a small area on his left cheek which has some blood on it.
He then grabs a towel and wipes the blood of his cheek.
As he heads over, his phone rings and as he grabs it, it pans to show a "United States Marine Corps" tattoo resting on his right arm just above his elbow.
He answers the phone, telling the person that he'll be right there before he hangs up.
Hoffman then leaves the bathroom and heads into the main living room while putting his shirt back on. He then grabs his jacket and leaves.
As he does that, it then shows a single young woman dressed in a bra and panties lying on some wrap on the floor, dead, her features displaying horror with numerous slashes across her chest while a knife lies opposite her.
Outside, Hoffman puts his jacket and then approaches a waiting car.
He gets in, acknowledging the driver.
It then cuts to show that the driver is none other than NCIS/Mossad Liaison Officer Ziva David who gives Hoffman a kiss before she starts the car.
Act One
As Ziva or Gina and Hoffman drive off together in the car, NCIS Special Agent Anthony DiNozzo Junior who's been waiting in a brown van remarks that Elvis has left the building.
In a single car, NCIS Special Agent Timothy McGee who's been monitoring the car's progress tells DiNozzo that they got it while Agent Leroy Jethro Gibbs tells DiNozzo to get into Hoffman's home before Gibbs and McGee set off, trailing Ziva and Hoffman in an NCIS Dodge Stratus.
Act Two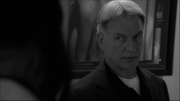 Act Three
Act Four
Act Five
Cast
Series Regulars
Recurring Cast
Other Cast
| Name | Portrayed by | Role |
| --- | --- | --- |
| Michael Locke | Steve Kazee | Suspected to be a copycat killer or partner of Andy Hoffman but is later found completely innocent. |
| Steve Rosetti | Nick Chinlund | Metro Police Detective who works with NCIS on the case. |
| Kevin Massey | Scott Holroyd | A Petty in the United States Navy, Massey is also a copycat killer responsible for the death of his own wife, Patricia Massey. |
| Andrew Hoffman | Michael Hagerty | A serial killer whose MO involved drugging and killing women before cutting off their right index fingers. |
| Heidi | Ella Thomas | A bartender. |
| Newscaster (Recoil) | Mia Lee | A woman who appears in the episode. |
| Devon Katz | Austin Graves | Michael Locke's ex-girlfriend. Uncredited role. |
| Julie Smight | Kristin Johnson | Hoffman's fourth victim. Uncredited role. |