Red Part 1 (or "Red") is the 18th episode of NCIS: Los Angeles Season 4 as well as the 90th episode of the entire NCIS: Los Angeles series.
Synopsis
OSP investigate when a murder weapon that was used to kill an arms dealer in Los Angeles matches one used to kill a United States Marine in Idaho. As Callen and Sam head to Idaho to meet with NCIS Assistant Director Owen Granger and join the investigation led by the NCIS: Red Team, a group of agents who live and work together in two mobile units as they solve crimes in various locations in America and all over the world, Kensi and Deeks work the case from OSP Headquarters in Los Angeles with the team soon finding evidence suggesting that a terrorist attack that could take place, one similar to that of September 11.
Plot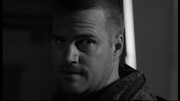 Major Events
Kensi gives Deeks the mysterious Box she recieved in Kill House (episode).
Callen and Sam head to Idaho where they reunite with Granger and also meet their counterparts- the NCIS Red Team led by Paris Summerskill.
NCIS Special Agents Paris Summerskill, Dave Flynn and Claire Keats along with former Agent Roy Haines and Tech Assistant Kai Ashe are all introduced for the first time.
Cast
Series Regulars
Recurring Cast
Other Cast