Rendezvous is the 24th and final episode of NCIS Season 14 and also the 330th episode of the entire NCIS series.
This episode also marks the final appearance of Alexandra Quinn played by Jennifer Esposito.
Synopsis
Gibbs, McGee and Torres travel to a remote area in Paraguay which is controlled by a group of violent rebels in an attempt to locate a missing Navy SEAL who disappeared during an unsanctioned trip with the three agents soon finding themselves fighting for their lives in a dangerous mission.
Prologue
Act One
Act Two
Act Three
Act Four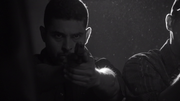 Act Five
Cast
Series Regulars
Other Cast