Restless is the second episode in NCIS Season 9 and the 188th episode of the entire NCIS series.
Synopsis
A beloved Marine is murdered at his homecoming party, prompting the NCIS team to investigate and they soon discover evidence of a botched kidnapping attempt of which the victim's adopted sister was the target but things change when the team discover that the sister is harboring secrets about her past.
Prologue
As a big band is playing in the background, a sign reading "Glenbrook High School Alumni Homecoming" is seen.
Meanwhile, someone pours someone else a drink.
As this goes on, someone lays a tray of hot dogs down on the table.
Nathan Tobias then walks off, heading over to a small area where Ernest McCormick tells a group of people that they went all-out and that they should help themselves.
"Can I top you off?", Nathan wonders.
"Ask me again when you turn 21", Ernest says, snatching the bottle from Nathan.
Nathan protests, stating that he's not drinking. He's just serving.
"Not anymore", Ernest says.
Nathan informs that actually Virginia law states that people 18 years or older are permitted to serve alcohol. As he says that, Nathan glances at his phone.
"Oh, really?", Ernest wonders.
Nathan then agrees, telling Ernest to look and that he brought a copy of the statue.
As Nathan holds his mobile containing the information up, Ernest tells Nathan that he'd have a lot more friends if he didn't do things like that.
"Hey, everybody", a woman calls. "Get in your places. Here he comes".
Ernest then gestures, stating "Come on, guys. He's here".
Almost immediately, the crowd springs into action, everyone eagerly awaiting the arrival of the main guest.
Seconds later, the door opens and Marine Thomas Hill arrives, prompting everyone to emerge in, yelling "Surprise!".
But it's obvious that something's wrong.
Hill then removes his hand which is stained with blood.
Moments later, Hill collapses to the ground which has everyone horrified.
As someone wonders what's wrong with Hill, Ernest and his wife, Amanda rush forward, Amanda stating, "No, Tommy".
It then cuts to Hill who lies on the floor, dead, blood gushing from his mouth.
Act One
Act Two
Act Three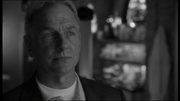 Act Four
Act Five
McGee and Ziva arrive into the bullpen with Ziva telling Gibbs that they widened the range of Lindsey's background and got a hit with McGee revealing that her real name isn't Lindsey and that it's Roxanne.
Major Events
Cast
Series Regulars
Recurring Cast
Other Cast