Boba Fett Returns - The Loop
Play Sound
Road Kill is the tenth episode in NCIS Season 6 and also the 123rd episode of the entire NCIS series.
Synopsis
The NCIS team investigate the death of a Navy Petty Officer and in the course, are led into the violent, brutal and no-holds-barred world of illegal underground street fighting but all is not what it seems...
Prologue
The episode opens at a late-night party in a forest as various teenagers, both male and female drink alcohol while roasting marshmallows at a campfire.
For a second, the group spot something in the bushes but they then begin drinking again.
In the bushes, Carrie watches as Lucas emerges with Lucas asking Carrie why she's hiding.
"Because we weren't invited, Lucas", Carrie remarks.
Lucas remarks that it's the afterparty and that it belongs to all of them. He also points out that an invitation would have been redundant.
"It would have been polite", Carrie insists.
Lucas tells Carrie to come on and that they're all going to be so happy to see them.
Carrie remarks that the group are never happy to see them at lunch so why would it be different now?
"Because", Lucas states, holding up a bottle of whiskey.
Carrie just rolls her eyes.
Lucas tells her to come on with Carrie agreeing, stating "Okay".
Seconds later, the two push through the trees and arrive at the party with Lucas greeting the group and showing them what they bought.
"They don't look so happy", Carrie remarks.
Suddenly, a girl starts screaming.
Lucas and Carrie turn around and see a man who's been badly injured and wearing bandages stagger out of the bushes, the man begging for help before he collapses to the ground.
This brings an abrupt end to the party as the group.
It then cuts to the man's face where it's shown that he's lying on the ground, dead, his eyes open and lifeless.
Act One
Act Two
Act Three
Act Four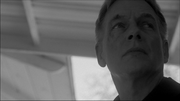 Act Five
As Ziva takes photographs of Kapp's body, she remarks their man has been murdered, their killer killed.
"Kapp capped", McGee states.
Major Events
It's revealed that Gibbs is still bearing the physical injuries from the hostage situation and gunfight in which occurred in the previous episode.
Trivia
This is the second time that the movie, "Fight Club" has mentioned, the first being in the Season 2 episode, Red Cell (episode).
Cast
Series Regulars
Other Cast