Spider-Man: No Way Home Trailer Dropped - The Loop
Play Sound
Rock and a Hard Place is the seventeenth episode of NCIS Season 11 and the 251st episode of the entire NCIS series.
Synopsis
After a bomb detonates in the dressing room at a military charity concert, killing two personnel including a Navy Petty Officer, the NCIS team investigate and need to determine if the target was a washed-up rocker who was successful in the 1980s or if the bomb was part of a much larger scheme while Jimmy Palmer prepares for fatherhood.
Prologue
In a small dressing room, as Navy Petty Officer First Class Damien Hunter wheels in something, Earl Grieve tells Hunter that they should have some extra space right back here before asking Hunter if it's good.
Petty Officer Hunter remarks that it's perfect and that Hero Comfort Foundation is supposed to give away a thousand t-shirts after the concert and that they need...
"A place where you can get to them fast?", Earl interrupts while also finishing Petty Officer Hunter's sentence.
"Yeah", Hunter agrees.
Earl remarks that he knows the drill before revealing that's not why he picked this particular boudoir. He then goes into the corner and searches for something before returning to Petty Officer Hunter.
It's revealed that the item Earl is holding is none other than a guitar or rather, a Vintage '62 which has Petty Officer Hunter stunned.
Earl reveals that he overheard one of the musicians during the rehearsal and that it was given to the musician by Merle Haggard which leaves Petty Officer Hunter stunned and also in awe.
Earl then plugs the connection into the guitar while also telling Petty Officer Hunter that he should give the guitar a whirl.
Petty Officer Hunter remarks that he doesn't think that's a good idea.
"What's the worst that could happen?", Earl states and as he heads to turn over the amp, Earl also remarks that he keeps hearing from Petty Officer Hunter himself about how Hunter is a badass.
Earl then tells Petty Officer Hunter it's time to put up or shut up.
Petty Officer Hunter just smiles and remarks, "All right".
However, as soon as he plucks a cord on the guitar, a huge explosion rips through the room, the waves of flames consuming the entire room and killing both men instantly.
Act One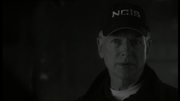 Act Two
Act Three
Act Four
Act Five
In the Bullpen, McGee reveals to Gibbs that Mustard's alibi checks out and that Mustard didn't plant the bomb.
Cast
Series Regulars
Recurring Cast
Guest Cast