Rogue is the 1st episode of NCIS Season 14 and the 307th episode of the entire NCIS series.
Synopsis
When a car explosion leaves a Navy Commander dead, his Marine wife unconscious and their teenage daughter unharmed, the NCIS team investigate and discover that there's a connection to an NCIS Special Agent who went missing six months ago while on a deep undercover assignment in Argentina and as the case goes on, NCIS Special Agent Alexandra Quinn, an instructor at FLETC arrives at NCIS HQ and begins shadowing the team in order to find out why Gibbs rejected the eight agents she recommended.
Prologue
Act One
Act Two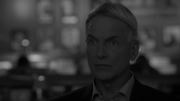 Act Three
Act Four
Act Five
Major Events
It's revealed that since DiNozzo's resignation and McGee's subsequent promotion to Senior Field Agent three months ago, there have been at least eight possible replacements for McGee's former position, all trained by Alexandra Quinn but none have lasted due to Gibbs firing them.
Fornell is revealed to be living at Gibbs's house as he recovers from the injuries he sustained in Homefront (episode).
Bud Roberts Jr. returns and it's revealed that he has been promoted to Captain.
McGee is revealed to know Bud and Bud's JAG colleagues, Captain Harmon Rabb and Marine Colonel Sarah MacKenzie.
NCIS Special Agents Nicholas Torres and Alexandra Quinn are both introduced for the first time.
After the case has been solved, Torres and Quinn both join Gibbs's team on a permanent basis.
Cast
Series Regulars
Recurring Cast
Other Cast
| Name | Portrayed by | Role |
| --- | --- | --- |
| Elena Silva | Sol Rodriguez | Leo Silva's daughter and David Silva's sister. |
| Leo Silva | Juan Carlos Cantu | South American businessman and also a hidden crime boss. |
| David Silva | Nicholas Gonzalez | Leo Silva's son and Elena Silva's brother. |
| George Campbell | Shaw Jones | A Commander in the United States Navy who is the husband of Marine Major Lucia Campbell, father of Amanda Campbell and also the brother-in-law of NCIS Special Agent Nicholas Torres. |
| Lucia Campbell | Pilar Holland | Marine Major in the United States Marine Corps, an officer with JAG and also the sister of NCIS Special Agent Nicholas Torres as well as the wife of Navy Commander George Campbell and the mother of Amanda Campbell. |
| Amanda Campbell | Ciara Bravo | Daughter of George and Lucia Campbell and the niece of NCIS Special Agent Nicholas Torres. |
| Monica Fernandez | Gina Gallego | A Judge. |
| Terry Mahler | Brian Michael Jones | Probationary Agent with NCIS. |
| Franco Alvarez | Bayardo De Murguia | A man who appears in the episode. |
| Suited Man | Joshua Elijah Reese | A man who appears in the episode. |
| Waitress (Rogue) | Samantha Cutaran | A woman who appears in the episode. |