We're Getting Mutants in the MCU - The Loop
Play Sound
Shell Shock Part 1 is the sixth episode of NCIS Season 10 and the 216th episode of the entire NCIS series.
Synopsis
A Lieutenant in the Marine Corps who recently returned home from the Middle East is found dead after being brutally attacked and beaten, prompting the NCIS team to investigate the circumstances surrounding the Marine's death but the team soon discover that all is not what it seems and that one suspect could be linked to a terrorist group.
Prologue
As a train goes past a series of apartment buildings, its horn loudly echoing into the night, two men are busy running through the street.
It then shows that the two men are being chased by a group composed of three individuals.
The group then grab First Lieutenant Michael Torres as his friend, Captain Joe Westcott looks on, horrified.
Westcott then turns around just in time to see a hooded man emerge with the man sending Westcott to the ground.
Almost immediately, the two groups begin delivering a series of vicious blows to both Torres and Westcott.
Seconds later, the screen goes black with Torres yelling "Captain!".
It then snaps back into view with Westcott watching as the men continue beating up Torres while another blow knocks Westcott out again.
The group then deliver a series of blows to Westcott before they split up, two fleeing while two more run back to Torres.
Westcott looks up to see two men dragging Torres away as Torres yells, "No! Don't!".
"Joe!", Torres yells.
As the men drag Torres into the darkness, Torres yells, "Captain!".
"Torres!", Westcott yells.
But there's no reply.
It then cuts to Westcott who runs off into the night.
Act One
Act Two
As Captain Westcott sits in Interrogation, Gibbs, Tony and Ziva in Observation examine him with Tony remarking that the Captain does seem out of it.
Ziva believes that Captain Westcott may be in shock but Tony suspects that Westcott's guilty.
Gibbs asks for the background.
Ziva then says that Captain Joseph Westcott and Lieutenant Michael Torres were close, having been friends since childhood before joining the Corps together.
Tony remarks that the records are spotless and that both men are highly regarded by their unit.
Ziva picks up by telling Gibbs that their C.O- commanding officer called them born leaders and that they exemplify the highest level of commitment to the Marines.
Act Three
Act Four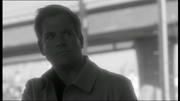 Act Five
Cast
Series Regulars
Other Cast