Doctor Strange in The Multiverse o Madness - The Loop
Play Sound
Shooter is the twenty-second episode of NCIS Season 11 and the 256th episode of the entire NCIS series.
Synopsis
When a Marine photographer disappears prior to giving a testimony in an Army court-martial hearing, the NCIS team investigates both the murder he witnessed as well as his current piece on homeless military veterans who are sleeping rough in the D.C. area but things take an intense turn when the photographer is later found dead, having apparently died of a drug overdose. The investigation changes when Ducky later discovers that the victim was unconscious before he was given a lethal injection of drugs, confirming that the victim was murdered and evidence soon emerges, suggesting a human trafficking ring that's secretly operating in the D.C. area is active with the homeless veterans themselves also being used as possible guinea pigs while Abby tries to help a young female teenager who's living on the streets of D.C. reconnect with her family.
Prologue
A lone Humvee drives through an area, the Humvee's lights guiding it.
Suddenly, the Humvee stops and a Marine team emerges, all of them wearing the standard Marine desert uniform and thigh holsters with all members of the team carrying guns.
Among them is Marine Staff Sergeant Martin Roe who pauses to take a photograph which shows Marines running through the area, wearing night-vision goggles.
As the Marines move on, it's shown that this area is in Afghanistan with the Marines in question preparing to launch a night-time raid.
Having moved on, Roe ducks and takes a photograph, showing the Marine team outside, getting ready to invade.
Roe lowers the camera again, looks around and then moves on, eventually landing in behind the Marine team with one Marine there, presumably as back-up for Roe.
Seconds later, the Marines burst into the room as other people are heard shouting in a foreign language, possibly Afghani.
Roe then takes a photograph where it's shown that Army First Lieutenant Michael Waters is standing there, looking at the camera, his gun drawn while in the background, an Afghan man lies on the bed, dead.
As one Marine yells "Don't! Don't! Move back! Move back!", implying that he's the leader, Roe lowers the camera, stunned.
A close-up then reveals that the dead Afghan man has three bullet wounds in his chest.
A lone Marine then tells Roe to put the camera down.
It then cuts to Roe who looks stunned.
Act One
Act Two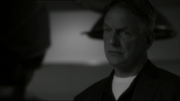 Act Three
Act Four
Act Five
In the bullpen, McGee reveals that it's against the law to financially benefit from the donation of a human organ in this country but on the black market, it's big business.
Cast
Series Regulars
Other Cast