Spider-Man: No Way Home Trailer Dropped - The Loop
Play Sound
Short Fuse is the third episode in NCIS Season 8 and the 165th episode of the entire NCIS series.
Synopsis
NCIS investigate when a Marine Sergeant shoots dead an intruder but things grow intense when it's revealed that the supposed intruder was actually a hitman.
Prologue
In the bedroom, as he puts his shirt on, Gary Tolin remarks that he has a staff meeting on Thursday night that will probably go late.
As Joss Stones's "Every Time I Turn Around" plays in the background, Heather Dempsey emerges from the bathroom as Tolin asks her if she's free around ten.
"I don't think so, Gary", Heather replies.
Suddenly, the sound of a door rattling catches Gary and Heather's attention.
"What was that?", Gary wonders.
Heather then shuts off the speaker and remarks that someone's downstairs.
She then races over to her locker, revealing that she's a Marine due to the USMC tattoo on the inside of her right hand. She then produces a gun, examining it.
"What are you doing?", Gary wonders.
Heather simply cocks the gun before bracing herself.
Gary calls her name but Heather tells him to stay there.
Gary just finishes putting his trousers on.
Meanwhile, Heather heads down the stairs and spots the intruder, Heather telling him to hold it.
The intruder attempts to fire but Heather's too fast, firing back instantly.
With just one shot, the intruder falls to the ground, dead.
It then cuts to Heather who stands there, her face giving nothing away.
Act One
Act Two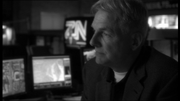 In the bullpen, the team are discussing Sergeant Dempsey with Ziva stating that Dempsey grew up in Greenough, Montana.
Tony also informs them that Dempsey became a local celebrity when she filled a lawsuit against the board of education who wouldn't let her play high school football.
Ziva remarks that Dempsey did one year of junior college before enlisting in the Corps and that Dempsey did basic training at Paris Island.
Act Three
Act Four
Act Five
Cast
Series Regulars
Recurring Cast
Other Cast