Silent Night is the eleventh episode of NCIS Season 6 as well as the 124th episode of the entire NCIS series.
Synopsis
Working on a double homicide over Christmas, the team investigate a Navy Petty Officer, Ned Quinn who was thought to have died in a fire seventeen years ago and they discover a shocking secret about what really happened at the crime scene.
Prologue
With Jiggle Bells playing in the background, a car with the sign "Lily's Flowers and Exotic Plants" arrives at a house that's been decorated for Christmas.
The driver, Greg, wearing a earpiece and holding a clipboard gets out of the car, stating to the person that he can't and that he's still working.
He then remarks that this is his big week with Greg remarking that he made more tips today than all last month.
As he opens the boot, Greg tells the person that he's got four more deliveries and as he grabs a bouquet, he tells the person that he'll hook up with them around 7 before Greg closes the boot again.
Greg laughs, remarking, "Yeah, whatever" before he ends the call.
He then heads up the steps and rings the doorbell but there's no response.
Greg instead settles for knocking rather loudly on the door.
He then peeks inside the window and sees the owners, Avery Taylor and Avery's wife, Mrs. Taylor, both lying on the floor, dead.
A close-up shows that Avery has a bad head wound while Mrs. Taylor just lies there, lifeless.
Suddenly, someone appears, startling Greg.
It then cuts to a glimpse of the stranger's face who looks back at Greg.
Act One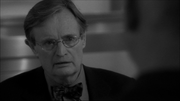 Act Two
In the bullpen, McGee is talking about Ned Quinn and how Quinn graduated with honors with the University of Virginia and that Quinn was accepted to its medical school but didn't go, choosing to enlist in the Navy where he became a corpsman instead and was attached to the 1st Battalion, 9th Marines.
"The Walking Dead", Gibbs states.
Act Three
Act Four
Act Five
Trivia
This was the most watched episode of the first 6 seasons with 19.86 million viewers and it was also NCIS's largest audience until it was surpassed by the Season 7 premiere episode, Truth or Consequences (episode) and the second episode in Season 7, Reunion (episode).
Cast
Series Regulars
Recurring Cast
| Name | Portrayed by | Occupation |
| --- | --- | --- |
| James Palmer | Brian Dietzen | Assistant Medical Examiner, NCIS |
| Jackson Gibbs | Ralph Waite | Father of NCIS Special Agent Leroy Jethro Gibbs and owner of Stillwater General Store. An uncredited voice-over in the concluding scenes of this episode. |
Other Cast