Silent Service is the 17th episode of NCIS Season 16 and also the 371st episode of the entire NCIS series.
Synopsis
Gibbs and Bishop are on a nuclear submarine, the U.S.S. Memphis, conducting an investigation into the death of a Navy SEAL but things take a turn when the submarine dives for a mission with Vance later learning from the Pentagon that the submarine has gone radio silent while McGee and Torres race against the clock to find and stop the person responsible for the actions that the sub has taken and before the submarine in question is shot down at sea to prevent it from striking out against Russian submarines in the area.
Prologue
Act One
Act Two
Act Three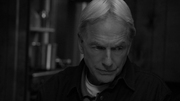 Act Four
Act Five
Major Events
Ducky officially retires as the Chief Medical Examiner and becomes the official Historian and archivist of NCIS.
Bishop is revealed to be uncomfortable operating within vessels, in particular submarines.
Trivia
This episode aired on the birthday of voice actor, Kazuhiko Inoue who is the official dubbing actor for Leroy Jethro Gibbs (Mark Harmon) in Japan.
Cast
Series Regulars
Other Cast