Jurassic World: Dominion Dominates Fandom Wikis - The Loop
Play Sound
Singled Out is the third episode in NCIS Season 4 and also the seventy-third episode of the entire NCIS series.
Synopsis
The team investigate the disappearance of a Navy Lieutenant, who also happens to be a computer specialist and who they believe may have been kidnapped. They soon discover that the Lieutenant was using her expert knowledge to profile potential husbands at a speed-dating event. The team then secretly infiltrate the speed dating seminar that the kidnapping victim attended in hopes of finding out who kidnapped the Lieutenant and they soon discover that something much bigger is being planned.
Prologue
On a small road, two cars, a Honda Civic and a Volkswagen are driving alongside each other.
The driver of the Honda looks over.
In the Volkswagen, one girl, Jennifer Murphy remarks to her friend, Nikki Crawshaw that the guy in the SUV is totally checking her out.
"Really?", Nikki wonders. "Is he cute?".
"Only extremely", Jennifer replies.
Nikki looks over and smiles with the Honda's driver waving.
Nikki then turns back to Jennifer, remarking the Honda's driver is probably gay and that he looked creeped out by them.
Jennifer wonders what she's talking and believes that the driver is totally into Nikki.
Nikki disagrees although Jennifer wants Nikki to write her number down and assures her to do it before the guy gets away.
As Nikki scribbles down something, the Honda speeds up and passes the Volkswagen.
In the back of the Honda, a hand emerges and suddenly,a bloodied young woman sits up with her appearance leaving the passengers of the Volkswagen stunned.
It then cuts to the bloodied woman who is silently screaming, "Help me".
Act One
In Director Jennifer Shepard's office, NCIS Special Agent Anthony DiNozzo Junior is busy examining a family photo with young Jenny in it.
Grinning, DiNozzo then turns and continues exploring some more, passing the door which is still open.
He then spots some flowers on Jenny's desk and goes to study them some more, even grabbing the card.
As he prepares to read it, Tony gets a hop when Jenny standing behind him wonders if there's a reason Tony is touching her flowers with Tony stating that he was just admiring them and that flowers are a passion of his.
"Really?", Jenny says. "So then you'd know how rare and expensive they are".
Act Two
Act Three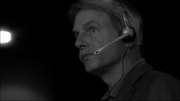 Act Four
Trivia
Misha Collins who guest stars in this episode as Justin Ferris would later go on to star in Supernatural as the angel Castiel, a role that sees him working with Jensen Ackles who worked with NCIS regular Michael Weatherly on the TV show, Dark Angel.
From this episode onwards, the show begins using a different style of font, replacing the original one that had been in use since the debut episode, Yankee White (episode) with the new font continuing to be used to this day.
Cast
Series Regulars
Guest Cast