Sins of the Father is the tenth episode in NCIS Season 9 and the 196th episode of the entire NCIS series.
Synopsis
The body of a man is discovered in a car and the team are stunned where they find DiNozzo's father, Anthony D. DiNozzo Sr. at the scene. As a result of his father being the main suspect in a murder investigation, DiNozzo is temporarily suspended but goes against Gibbs and Vance's orders as he searches for evidence in the hope of proving that his father is truly innocent while Gibbs, McGee, Ziva, Abby and Ducky all work the case and attempt to discover what really happened.
Prologue
A lone Metro Police patrol car heads into a small area.
As it stops, the engine being switched off, a horn is heard in the background.
It then shows a Rolls-Royce sitting inside the vacant area.
Officers Blake and Jackson emerge, examining the vehicle.
Blake takes a look, wondering what's wrong with this picture.
"Let's check it out", Jackson urges.
They both split up, covering the car.
As he approaches, Jackson informs Blake that there's someone in the car. He opens the driver's side door while Blake opens the passenger side.
Jackson shakes the person who's lying there, asleep at the wheel.
Despite his efforts, the person isn't moving or responding.
Her search of the passenger side done, Blake moves on to another area of the car.
Eventually, the person stirs with Jackson helping him out.
Meanwhile, Blake reaches the boot while Jackson continues helping the mysterious person up.
At the boot, there's some kind of fabric sticking out, prompting Blake to open it.
As she does, she sees the body of a man wearing a uniform associated with the United States inside.
Blake then draws her gun, shouting "Body!".
Seconds later, Jackson copies her, drawing his gun too as they both aim their weapons at the mysterious man.
"Hands up", Jackson orders.
The mysterious man raises his hands.
It then cuts to reveal that the mysterious man in question is none other than Anthony DiNozzo Senior who appears to be in a groggy state.
Act One
NCIS Special Agent Ziva David arrives into the bullpen, greeting her colleagues, fellow NCIS Special Agents Anthony DiNozzo and Timothy McGee.
Act Two
Act Three
Act Four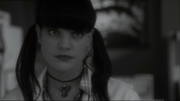 Act Five
Major Events
NCIS Probationary Agent Ned Dorneget is introduced for the first time.
Cast
Series Regulars
Recurring Cast
Other Cast