Skeleton Crew is the 4th episode of NCIS Season 15 and also the 334th episode of the entire NCIS series.
Synopsis
During a storm that has shut down Washington D.C. and also knocked out power, the NCIS team investigate the kidnapping of a sailor with Torres and Bishop being sent out to sea to track evidence which is connected to the case while Director Vance welcomes NCIS Special Agent Jacqueline Sloane, a forensic psychologist he lobbied to transfer from California to headquarters and on board the ship, Bishop meets a face from her high school days.
Prologue
Act One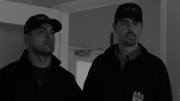 Act Two
Act Three
Act Four
Act Five
Major Events
NCIS Special Agent Jacqueline "Jack" Sloane who is also a forensic psychologist is introduced for the first time.
It is revealed that Vance and Sloane had history together, and that the latter possessed severe scarring on her back from unspecified circumstances. Both would later be revealed in the Season Fifteen finale Date With Destiny (episode).
It's revealed that Bishop's nickname during her time in high school was "Scarecrow".
Production Notes
Cast
Series Regulars
Recurring Cast
Other Cast
| Name | Portrayed by | Role |
| --- | --- | --- |
| Jacqueline Sloane | Maria Bello | NCIS Special Agent. |
| Thomas Buckner | Trevor Donovan | Navy Commander who went to school with Bishop. |
| Ethan Wynn | Alberto De Diego | Marine First Lieutenant and assault victim as well as the husband/widower of Navy Lieutenant Junior Grade Helen Wynn. |
| Helen Wynn | Sabina Gavrilov | Lieutenant Junior Grade in the United States Navy, the wife of Marine First Lieutenant Ethan Wynn and daughter of Constance Belmont. Uncredited role. |
| Constance Belmont | Gates McFadden | Navy Lieutenant Junior Grade Helen Wynn's mother. |
| Joe Smiddy | Andrew Puente | Navy Petty Officer Third Class. |
| Mitch Greyson | Andrew Asper | Banker and killer. |
| Farrah | Alexis Stier | Party goer. |
| Sarah (Skeleton Crew) | Megan Stier | Party goer. |
| Waitress | Sandra Rosko | |