Something Blue is the 23rd episode of NCIS Season 14 and also the 329th episode of the entire NCIS series.
Synopsis
The stress of McGee and Delilah's imminent wedding takes its toll as Delilah is rushed to the hospital after collapsing while the NCIS team travels out to sea to investigate after a young and healthy Petty Officer aboard a Navy destroyer dies in his sleep.
Prologue
Act One
Act Two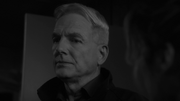 Act Three
Act Four
Act Five
Major Events
It's revealed that Delilah is pregnant.
McGee and Delilah get married.
Cast
Series Regulars
Recurring Cast
Other Cast