Cobra Kai Season 4 - The Loop
Play Sound
South by Southwest is the seventeenth episode in NCIS Season 6 and also the 130th episode of the entire NCIS series.
Synopsis
When an NCIS Special Agent is killed, the team's investigation sends Gibbs and Tony to Arizona where with the help with a local Sheriff, they seek to find a woman that the Agent contacted before his death, only to learn that those responsible for killing the Agent are now targeting the woman as well....
Prologue
A self-cleaning truck roams a lone street of Washington D.C.
As it drives off into the night, Jack Patterson races through the street, carrying a Trans-Ex package and once he reaches a post-box, he slaps something on the package before scribbling something down as well.
Suddenly, the sound of screeching tires gets Patterson's attention and he looks up to see an SUV approaching.
Patterson then dumps the package into the postbox and tries to walk off, only for the SUV to start following.
Patterson runs down the street, his hand on his holster.
At the SUV, the window has rolled down and the driver then fires a single shot just as Patterson prepares to draw his SIG.
The shot causes Patterson to sink to his knees.
The driver fires again, the second shot sending Patterson to the ground and causing Patterson to drop his SIG.
The SUV then stops.
The driver gets out, places Patterson's right hand over Patterson's chest before the driver aims his gun at the back of Patterson's head and fires, the third and final shot presumably killing Patterson.
After a single turn, the SUV speeds off into the night.
It then cuts to the badge on Patterson's belt which on close-up reveals that Patterson is an agent with the Naval Criminal Investigation Service or "NCIS".
Act One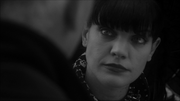 Act Two
In the lab, with photos of Patterson on her monitor, Abby remembers Agent Jack Patterson and states that's not what she thought he looked like.
Gibbs then tells her that she said that she knew him.
Abby remarks that they had a very special phone relationship and that Patterson would email her forensic evidence with Abby emailing him back results and that he would call her or she'd call him.
Act Three
Act Four
Act Five
Trivia
The song playing when Gibbs and DiNozzo arrive in Arizona is "Tomorrow Still Comes" by Will Dailey.
During the episode, DiNozzo compares Uncle Clive and he to Al Pacino and Chris O'Donnell in Scent of a Woman. Chris O'Donnell joined the NCIS franchise, playing NCIS Special Agent G. Callen five episodes later.
Cast
Series Regulars
Other Cast