Stop the Bleeding is the premiere episode of NCIS Season 13 and also the 283rd episode of the entire NCIS series.
Synopsis
In the aftermath of being shot in the previous episode, Gibbs finds himself fighting for his life and also drifting between life and death as he's treated on board the medical ward of the Navy ship, the U.S.S. Daniel Webster while DiNozzo and CIA officer Joanna Teague who is also the mother of deceased NCIS Special Agent Ned Dorneget both travel to Shanghai, China to take down the structure of the Calling once and for all while everyone tries to come to terms with Gibbs being shot.
Prologue
Act One
Act Two
Act Three
Act Four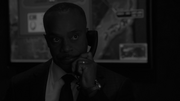 Act Five
Major Events
It's revealed that four months have passed since the events in the NCIS Season 12 episode, The Lost Boys (episode).
Navy Doctor Dr. Cyril Taft is introduced for the first time.
Rule 45 is revealed to be "Clean up your own mess".
Trivia
Jon Cryer (Dr. Cyril Taft) is credited as a Special Guest Star.
There is no U.S. Navy aircraft carrier named Daniel Webster. The U.S.S. Daniel Webster was a Lafayette-class ballistic missile submarine, commissioned in 1964 and decommissioned in 1990. To date, it is the only U.S. Navy vessel named after U.S. Senator Daniel Webster.
Cast
Series Regulars
Recurring Cast
Other Cast