Jurassic World: Dominion Dominates Fandom Wikis - The Loop
Play Sound
The Admiral's Daughter is the twenty-third episode of NCIS Season 11 and the 257th episode of the entire NCIS series.
Synopsis
As the rest of the NCIS team investigate the death of a man whose remains were found in a septic tank, DiNozzo is sent to Marseille, France, having been given the top-secret assignment of bringing home an Admiral's daughter, only to stumble into a possible nightmare when he enters the NCIS office and finds that the NCIS office in Marseille has become a crime scene that has the bodies of seven NCIS personnel. As such, DiNozzo must turn to his team for help after being framed by one of the true killers who will ultimately stop at nothing in silencing both him and Amanda once and for all.
Prologue
In Marseille, France, it's a lovely, sunny day as numerous people walk about.
A woman then announces that authorities are combing the city today, looking for an American national wanted for the murder of a Marseille police officer.
As this happens, it shows that the person is none other than NCIS Special Agent Anthony DiNozzo with the channel in question being ZNN.
In the truck, DiNozzo apologizes as he bounds and gags the owner.
Suddenly, a man arrives, ringing the bell.
When no-one replies, the man asks questions in French, suggesting that he wants to know where the man is.
He then rings the bell again before finally giving up and walking away altogether.
DiNozzo then leaves the truck with the owner still lying on the ground, bound and gagged.
As he slams the door shut, Amanda Kendall asks Tony what do they do now.
"We run", Tony replies.
It then cuts to Tony who looks grim-faced.
Act One
Act Two
In the Evidence Garage, as she looks at the huge septic tank, NCIS Forensic Scientist Abigail Sciuto remarks that sometimes she loves her job and sometimes she has to crawl into a giant septic tank.
Gibbs tells her it could be worse.
"How?", Abby wonders.
Gibbs remarks that he could have to climb in there with her before he chuckles.
Act Three
Act Four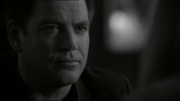 Act Five
Major Events
Palmer discovers that Breena is pregnant with their first child.
Cast
Series Regulars
Other Cast