Cobra Kai Season 4 - The Loop
Play Sound
The Fifth Man is the third episode of NCIS: Los Angeles Season 4 as well as the 75th episode of the entire NCIS: Los Angeles series.
Synopsis
When a diner is attacked, resulting in the deaths of four people, all of whom were players of a new terrorist attack warning system called "Operation Wide Awake", OSP investigate and soon find themselves racing to save the fifth and final tester, a young autistic girl from suffering the same fate while Nell plays the game but soon discovers a potential flaw in it, one that could serve as a motive
Plot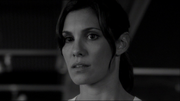 Major Events
It's revealed that Kensi spent nearly a year living on the streets after her father died.
It's revealed that Nell has an IQ higher than any other person who works for NCIS.
Cast
Series Regulars
Other Cast
| Name | Portrayed by | Role |
| --- | --- | --- |
| Astrid | Abbie Cobb | A young girl with autism. |
| Mike Hoffman | Myk Watford | |
| Oliver Mathers | Ian Alda | A Doctor. |
| George Toretto | Troy Winbush | |
| Joseph R. Hepanta | Wayne Lopez | AKA "Construction Worker". |
| William LaMontley | Roy Werner | AKA "Rich Man". |
| Warren Blackstern | Paul Keith | AKA "Old Retiree". |
| Corey Danusville | David Magidoff | AKA "College Student". |
| Alton Ridgely | Robert Parks-Valletta | AKA "Waiter/Driver". |
| Mother 1 | Ondrea J. Smith | Cameo. In real life, Ondrea J. Smith is the mother of LL Cool J who plays NCIS Special Agent Sam Hanna. |
| Mother 2 | Julia O'Donnell | Cameo. In real life, Julia O'Donnell is the mother of Chris O'Donnell who plays NCIS Special Agent G. Callen. |
| Mother 3 | Jeanne D. Olsen | Cameo. In real life, Jeanne D. Olsen is the mother of Eric Christian Olsen who plays LAPD Detective Marty Deeks. |
| Mother 4 | Caterina Korn Broder | Cameo. In real life, Caterina Korn Broder is the mother of Daniela Ruah who plays NCIS Special Agent Kensi Blye. |