The Good Son is the nineteenth episode in NCIS Season 9 and the 205th episode of the entire NCIS series.
Synopsis
The NCIS team investigative the death of a Navy Petty Officer and soon discover a possible connection between the victim and Vance's brother-in-law.
Prologue
It's late-night in downtown Baltimore and as the Black Keys-Gold on the Ceiling plays in the background, Seaman Mark Hill who is drunk and also hiccuping is being supported by his friend, fellow Seaman Jacob Pierway who wonders if Hill's gained weight.
As the two sailors walk down the street, Hill just tells Pierway that it's too much beer with Pierway telling Hill that Hill pukes on him, then he'll leave Hill right here.
"All right", Hill states.
As they walk down the street with Hill glancing around, Pierway suddenly stops upon seeing their fellow sailor, Petty Officer Caleb Adams lying in an alleyway, presumably passed out.
Pierway calls Adams's name but there's no response.
With that, the two sailors head over with Pierway telling Adams to come on and to get up before wondering if Adams is hearing Pierway.
As soon as he's left Hill against a wall, Pierway adjusts his hat and tells Adams to come on and that Pierway is not going to be dragging both their sorry asses back to the ship.
Pierway then kneels and touches Adams while stating to Adams that they're back by 0600 but gasps upon realizing that Adams's uniform is soaked with blood and that there's a single stab wound as well.
Pierway and Hill just stand there, both stunned.
It then cuts to Adams who lies there, dead.
Act One
Act Two
Act Three
Act Four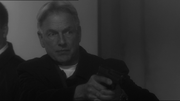 Act Five
Major Events
The team meet Michael Thomas, Vance's brother-in-law.
Cast
Series Regulars
Recurring Cast
Other Cast