The Last Link is the 12th episode of NCIS Season 16 and also the 366th episode of the entire NCIS series.
Synopsis
An old family friend, Army Corporal John Sydney, beseeches Gibbs to join him on a road trip to search for a missing military I.D. bracelet while the rest of the team investigate when a Navy Lieutenant who was in protective custody is fatally poisoned by an infamous drug dealer.
Prologue
Act One
Act Two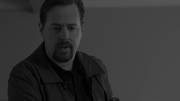 Act Three
Act Four
Act Five
Major Events
Gibbs' namesake, Medal of Honor recipient L.J. Moore, passed away prior to the events chronicled in the episode.
Trivia
It is revealed that Jackson Gibbs participated in the Invasion of Normandy while serving in the US Army Air Forces.
Cast
Series Regulars
Recurring Cast
| Name | Portrayed by | Role |
| --- | --- | --- |
| Cal Fraser | Daniel E. Smith | Current owner & operator of the Stillwater General Store, given to him by Gibbs after the latter's father's death. |
Other Cast