Spider-Man: No Way Home Trailer Dropped - The Loop
Play Sound
The Missionary Position is the twentieth episode in NCIS Season 9 and the 206th episode of the entire NCIS series.
Synopsis
The NCIS team investigate the death of a Marine who fell from the sky after being tortured with the team later discovering that a Navy Chaplain has gone missing in Colombia. Tony and Ziva later head to Colombia to rescue the Marine with Ziva's mentor later joining the investigation while back in Washington D.C., Gibbs and McGee continue pursing other leads connected to the case while Jimmy Palmer must choose who will be his Best Man for his upcoming wedding.
Prologue
Phil and Judy arrive at a small picnic with Phil stating, "Okay. If you like it, I love it".
As Judy begins placing the red blanket on the grass, she then stops, saying, "Wait" before announcing that she doesn't like it.
"Okay", Phil says. "Let's see".
He remarks that over by the pond was too sunny, the gazebo wasn't sunny enough and here...
Judy admits that she doesn't know.
She then states that it's like bad energy.
"Seriously?", Phil says.
"I know", Judy replies.
She remarks that it doesn't feel right for some reason.
Phil just sighs.
Judy then suggests under the tree.
She then gathers up the blanket as Phil remarks that he kind of likes it here.
Judy vows that it's the last move.
As soon as she's gotten the blanket down onto the grass, she tells Phil that it feels much better here.
"Okay", Phil remarks, doubtful.
He then brings the box over, stating that next time, he'll pack a lighter basket.
Judy thanks him.
However, as soon as Phil has joined her, the date is interrupted when a body falls from the sky, landing right in front of them which has Judy and Phil horrified and looking up to the sky as Judy mutters, "Oh my God".
As it sinks, Judy tells Phil that if he'd stayed in that same spot...
The two then look at each other and hang on.
It then cuts to the body who lies there, bloodied, its legs at awkward angles.
Act One
Act Two
Act Three
Act Four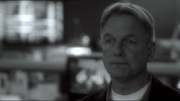 Act Five
In Ryan's office, Gibbs asks Ryan is the two CIA agents are missionaries or CIA.
He then tells Ryan that he needs answers, not hints or riddles.
Cast
Series Regulars
Recurring Cast
Other Cast