The Numerical Limit is the 19th episode of NCIS Season 15 and also the 349th episode of the entire NCIS series.
Synopsis
Gibbs is granted protective custody of a 10-year-old orphaned refugee, Elena when an NCIS case reveals she is the target of a violent gang.
Prologue
Act One
Act Two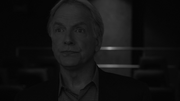 Act Three
Act Four
Act Five
Major Events
It's revealed that a week has passed since the events of the previous episode.
Cast
Series Regulars
Other Cast