The Penelope Papers is the third episode in NCIS Season 9 and the 189th episode of the entire NCIS series.
Synopsis
When a naval officer is murdered, the team discover a startling connection between the victim and McGee's grandmother before they realize that the two have a connection to a project that began some thirty years ago while Jimmy Palmer struggles with his upcoming wedding.
Prologue
In a park, Paul Booth tells his wife that he meant to come home last night before stating that his class ran late and he had all those papers...
He then wonders why she's accusing him of.
As this happens, Booth glances back and forth, obviously fearful that someone is watching him.
He then states that he can't deal with this right, that he's gotta go and that he'll call her later.
With that, Booth hangs up while also sighing in frustration.
As a train's horn is heard in the background, Booth sits down on a park bench, rubbing his head. He then dials a number and as he waits for the person to answer, Booth mutters "Come on", obviously impatient.
"Hey, it's me", Booth says. "I'm starting to really lose it here. I can't keep lying to my wife. It's killing me" before he tells the person that they need to end this.
As Booth wonders if they can meet, a lone figure standing behind a tree raises a gun, ready to fire while Booth tells the person that he's at the park across the Hayes Hotel.
"I'll see you soon", Booth remarks.
He then hangs up but still looks deeply troubled.
Booth then takes a deep breath.
Seconds later, the figure fires with the bullet itself striking Booth in the left side of his head, the impact killing Booth instantly.
It then cuts to Booth who then falls off the bench and hits the ground, dead, his cell phone in his hand.
Act One
Act Two
Act Three
Act Four
Act Five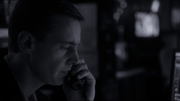 Ziva heads into the bullpen, remarking to the others that Ducky's finishing but the evidence is still pointing towards the killer.
Tony remarks that it's another execution.
Major Events
Penelope Langston, McGee's grandmother is introduced for the first time.
It's revealed that McGee has not spoken to his father in seven years.
Trivia
Lily Tomlin who plays Penelope Langston is credited as a Special Guest Star.
Cast
Series Regulars
Recurring Cast
Other Cast