The Searchers is the seventh episode of NCIS Season 12 and the 265th episode of the entire NCIS series.
Synopsis
After investigating the murder of a retired Master Sergeant, the NCIS team uncovers a fraudulent charity that preys on those searching for missing military personnel but when the main suspect flees to Vietnam, Gibbs and DiNozzo head to Vietnam in pursuit. As this happens, Bishop agonizes over the results of her probation evaluation while Tony contemplates adopting a stray cat that followed him home.
Prologue
Oscar and Zak enter a area with Oscar stating that it's dark and that he can't see.
Zak tells Oscar to move over before he produces a flashlight, switching it almost immediately.
As they head into the garage, Oscar wonders if Zak's crazy and that Old Man Hawkins sees the light through the garage, he'll call the cops and they'll have records.
Zak just wonders how the man is going to see a light through the wall and besides does Oscar know how many video games one coin from the treasure chest can buy?
As Zak examines another area, Oscar just stands there, terrified.
It then shows that Oscar has been staring at a gas mask.
"Whoa, war stuff", Zak whispers.
As he reaches for the helmet, Oscar tells Zak that not to touch it as he could get lice.
With the helmet on, Zak then intimidates machine fire but stops upon seeing something that has him hopping off the chair.
"What is that?", Oscar wonders.
Zak then flashes his light over and it's shown that a man is lying on the ground, dead.
"He kills people", Zak whispers.
Oscar states that that's him: Old Man Hawkins.
It then cuts to Zak who looks stunned.
Act One
Act Two
Act Three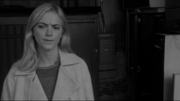 Act Four
Act Five
Cast
Series Regulars
Other Cast