The Tie That Binds is the 10th episode of NCIS Season 14 and the 317th episode of the entire NCIS series.
Synopsis
After the NCIS team discover evidence from the murder of a Navy Captain which is connected to Ducky's dead mother, Ducky finds himself questioning a pivotal life choice he made thirty-seven years ago while the team exchanges holiday gifts as Gibbs spends Christmas dinner with Fornell.
Prologue
Act One
Act Two
Act Three
Act Four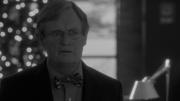 Act Five
Major Events
Ducky's middle name is revealed to be "Horatio".
Ducky is revealed to be the reason why he and his mother moved to the United States.
Trivia
The episode is actually confirmed to be the 317th episode, airing before the 316th episode.
This is the final Season 14 episode for the year.
Clyde Kusatsu, who portrays the gardener Mister Takumi Rin, previously appeared on NCIS, in The Inside Man (episode), as Benjamin Franklin.
Cast
Series Regulars
Recurring Cast
Other Cast