The Wall is the 19th episode of NCIS Season 14 and also the 325th episode of the entire NCIS series.
Synopsis
When a Marine is murdered at an event for the Honor Flight Network, a non-profit that arranges for veterans to visit the World War II, Korea and Vietnam War Memorials for free, the NCIS team must rely on an irritable Vietnam War veteran, Henry Rogers, to provide details on the victim's whereabouts throughout the day while McGee and Bishop investigate a juicy rumor about Quinn and Torres.
Prologue
Act One
Act Two
Act Three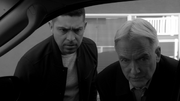 Act Four
Act Five
Trivia
During the episode, Navy Lieutenant Harmon Rabb Senior's name is seen on the Vietnam War Memorial Wall.
Cast
Series Regulars
Other Cast
| Name | Portrayed by | Role |
| --- | --- | --- |
| Andrew Beck | Delpaneaux Wills | Corporal in the United States Marine Corps. |
| Henry Rogers | Bruce McGill | A Vietnam War veteran from Nebraska who served as a Sergeant in Force Recon and was awarded the Navy Cross. |
| Benjamin Harmey | Peter James Smith | |
| 1st Veteran | Richard Doyle | War veteran. |
| 2nd Veteran | William C. Mitchell | War veteran. |
| Tour Guide (The Wall) | Dinora Walcott | Tour guide. |
| Dale Gruber | Will Radford | |
| Bridget O'Leary | Samantha Colburn | The killer. |
| Trish Collinson | Jamie Sara Slovon | |
| Fork Lift Driver | Jerry T. Adams | Uncredited role. |