We're Getting Mutants in the MCU - The Loop
Play Sound
Thirst is the sixth episode in NCIS Season 9 and the 192nd episode of the entire NCIS series.
Synopsis
When a Navy Lieutenant is found dead, the team suspects that the death was accidental but when Ducky discovers that the victim died from water intoxication, it changes from accidental to murder and the team suspect that a serial killer might be responsible.
Prologue
As some music plays in the background, a lone truck drives into the night.
Over the radio, Lobo remarks that he's got another one for Road Hog and to come back.
In the truck, Road Hog states that he's here and tells Lobo to lay it on him.
Lobo suggests Jennifer Aniston or Jennifer Lopez with Road Hog admitting that's a tough one and that both would be way out of his league before wondering who he'd be.
"What do you mean, who'd you be?", Lobo wonders. "They'd be them and you'd be you".
Road Hog then wonders couldn't he be Tom Cruise or that Wolverine guy or someone?
"That ain't how this works, Hog", Lobo replies.
Hog then spots upon seeing a man crossing the road which has him saying, "What the Hell?".
He then puts his foot on the brakes, causing the truck to stop.
Despite Hog's efforts, the trunk hits the man, sending him to the side of the road.
Hog then stops the truck and gets out, startled, muttering, "Oh, man. Oh, please, no. No. No. No".
Hog then climbs down the rig, racing to where the man's lying with Hog wondering if the guy's okay.
The man gets to his feet, stunned.
Hog asks the man where he came from.
Suddenly, Hog looks up and sees the man's SUV.
"God does protect drunks and fools, I guess", Hog says.
He then asks the man to let him call the cops.
The man looks at Hog, confused.
Hog wonders if the man needs some water.
Just then, the man begins gasping before he falls to the ground with a thud.
"Mister?", Hog wonders.
The man who lies on the ground, his eyes glazed over with water beginning to emerge from his mouth.
It then cuts to Hog who looks stunned.
Act One
Act Two
Act Three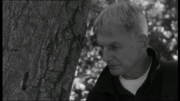 Act Four
In the morgue, as Alcott's body lies on a slab, Palmer remarks that it was the same blunt force to knock Alcott out, duct tape on the wrists, sloughing of the skin and they can assume that the same Ecstasy was used.
"Everything's the same, Mr. Palmer", Ducky remarks grimly.
Act Five
Cast
Series Regulars
Recurring Cast
Other Cast