Spider-Man: No Way Home Trailer Dropped - The Loop
Play Sound
Toxic is the twenty-first episode in NCIS Season 6 and also the 134th episode of the entire NCIS series.
Synopsis
Abby joins a top-secret project but soon discovers that nothing is what it seems while the NCIS team investigate the discovery of a Marine's body and soon realize that it might be connected to what Abby's working on and that Abby might be in great danger...
Prologue
The episode opens with a couple singing to their baby son who's lying in the crib, fast asleep.
Once they've finished, Drew (Toxic) remarks to Marie that that's kind of a dark song with Marie telling Drew to shut up.
The two then leave the bedroom and once the door has closed, Marie asks Drew if he's happy with Drew stating that he asked her to get ice cream.
"Did I tell you to blend it?", Marie hisses.
Drew defends himself, stating that he doesn't remember the blender being that loud.
As they head into the kitchen, Marie rounds on her husband, stating that this morning, Drew didn't remember that the dryer beeps on Wrinkle Guard.
"It was a beep, a single beep", Drew protests before wondering how could something so small with such little ears have bionic hearing?
Suddenly, the sound of their crying son comes over the monitor but then the crying abruptly stops.
The two then breathe a sigh of relief but it's short-lived when a man is heard saying into the monitor, "Help me. Please. Help me".
It cuts to Drew and Marie, both of whom look shocked.
Act One
Act Two
In the bullpen, as the team gather around the monitor, McGee reveals that the victim was Private First Class Marco Riggs. Tony then reveals that Riggs was recently assigned to CLB-3, Combat Logistical Battalion supporting troops.
Ziva then takes over by revealing that was the case until Riggs was accused of stealing equipment and selling it on the black market.
Act Three
Act Four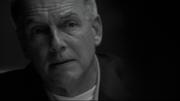 Act Five
Trivia
Although Ziva seems unfamiliar with the term "spring cleaning" - stating that Israel is a desert and therefore has no spring - in the Israeli culture spring cleaning is actually an important tradition done before every Passover and is very thorough.
Cast
Series Regulars
Recurring Cast
Other Cast