True Believer is the 8th episode of NCIS Season 18 and also the 406th episode of the entire NCIS series.
This episode also features the final appearance of Maria Bello (Jack Sloane).
Synopsis
[
]
When Sloane's name is discovered in Afghanistan at the site of an abandoned bus with a dead driver, Gibbs accompanies her on a trip to find a group of girls who were kidnapped from the bus while McGee, Bishop and Torres track down a hacker who emailed compromising information to the Taliban.
Prologue
[
]
Act One
[
]
Act Two
[
]
Act Three
[
]
Act Four
[
]
Act Five
[
]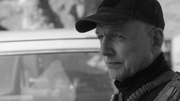 Major Event
[
]
Sloane resigns from NCIS and chooses to remain in Afghanistan.
Trivia
[
]
Cast
[
]
Series Regulars
[
]
Other Cast
[
]