We're Getting Mutants in the MCU - The Loop
Play Sound
Up in Smoke is the twenty-third episode of NCIS Season 9 and the 209th episode of the entire NCIS series.
Synopsis
During a routine visit to the dentist, NCIS Probationary Agent Ned Dorneget gets a shock when he discovers a bug implanted in his tooth. The investigation leads the NCIS team to a grief-stricken businessman-turned-terrorist who is seeking revenge against the Navy for his son's death.
Prologue
The episode opens with a recap of what's happened over the last few episodes and ends with NCIS Special Agent Leroy Jethro Gibbs adding Harper Dearing's photo to the NCIS: Most Wanted wall, confirming that Dearing is the newest threat to NCIS.
In a dentist's office, Dr. Edgar Cromwell is busy working on the mouth of a patient with Cromwell wondering what happened.
Although it's muffled, the patient remarks that he doesn't know and that he hit her.
Cromwell remarks that the guy must have been pretty scared before he wonders how badly did she hit him?
The patient states that's it all right.
Cromwell tells the patient that he's lucky.
"Yeah right yeah", the patient remarks.
"You can say that again", Cromwell states.
Seconds later, Cromwell then produces a tooth from the patient's mouth and as the patient closes his mouth, Cromwell examines it, remarking that the patient definitely fractured his implant.
Cromwell also states that it looks like a popcorn kernel and that Cromwell can see the pieces.
The patient then sits up, revealing that it's none other than NCIS Probationary Agent Ned Dorneget who's stunned at the popcorn kernel.
Cromwell remarks that it happens all the time and that most people don't realize the tensile strength of the...
He then stops upon realizing something.
Dorneget wonders what's wrong.
Cromwell states that the implant isn't solid and it's no wonder Dornget fractured it.
The two then glance down at the item.
Cromwell then uses a small item to pick it up, revealing that it's a bug of some sort.
"Was that in my tooth?", Dorneget wonders.
He smiles before realizing if someone bugged his mouth.
"What did you say you did again?", Cromwell asks.
It then cuts to Dorneget who looks completely stunned.
Act One
Act Two
Act Three
Act Four
Act Five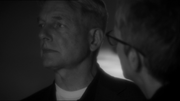 Cast
Series Regulars
Recurring Cast
Other Cast