Vengeance is the eighteenth episode of NCIS: Los Angeles Season 3 as well as the 66th episode of the entire NCIS: Los Angeles series.
Synopsis
OSP investigate when a Navy Intel Officer is found dead and the evidence seems to suggest that a team of Navy SEALs are responsible. As Callen, Sam, Kensi and Deeks arrive to interrogate the group, they learn that the suspects are due to depart on a hostage rescue mission with Sam being chosen to interrogate the members which could in turn compromise the mission.
Plot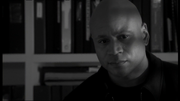 Major Events
Medical Examiner Amy Shuler is introduced for the first time.
Cast
Series Regulars
Other Cast
| Name | Portrayed by | Role |
| --- | --- | --- |
| Dean Westerman | Chris Butler | Navy Lieutenant Commander/SEAL and the Team Leader for Task Force Delta. |
| Green | Gino Anthony Pesi | Navy Chief Petty Officer/SEAL and a Team Member for Task Force Delta. |
| David Hodgkins | Dustin Seavey | Navy Petty Officer First Class/SEAL and a Team Member for Task Force Delta. |
| Rafael Torres | Ka'ramuu Kush | Navy Petty Officer Second Class/SEAL and a Team Member for Task Force Delta. |
| Doug Foster | Brian Patrick Wade | Navy Petty Officer Third Class/SEAL and a Team Member for Task Force Delta. |
| Andy Shaw | Coley Mustafa Speaks | Corporal in the United States Marine Corps. |
| Revis | Eltony Williams | Sergeant in the United States Marine Corps and EOD Technician. |
| Booker | Blake Cooper Griffin | Staff Sergeant in the United States Marine Corps and Fire Control Officer. |
| Amy Shuler | Kate Lacey | Medical Examiner. |
| Heather Linden | Tabitha Morella | Uncredited role. |
| Motel Manager (Vengeance) | Verda Bridges | Uncredited role. |