Cobra Kai Season 4 - The Loop
Play Sound
Viral is the 6th episode of NCIS Season 13 and the 288th episode of the entire NCIS series.
This episode is also the second episode of the NCIS series to be directed by series regular Rocky Carroll who plays Leon Vance on the show, Carroll having made his directorial debut with the NCIS Season 12 episode, We Build, We Fight (episode).
Synopsis
The NCIS team investigate when the murder of a Navy Petty officer is revealed to match a M.O. that a local serial killer called the Tri-State Sniper is using and it falls to the team to discover if this is the serial killer's latest victim or if it's a copycat killing while McGee and Delilah must learn to compromise before moving in together and potential tragedy lies in store for Bishop.
Prologue
Act One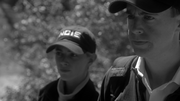 Act Two
Act Three
Act Four
Act Five
Trivia
The serial killer in the episode appears heavily based off the DC Sniper, a serial and spree killer responsible for shooting random pedestrians with sniper shots and even leaving calling cards behind, such as a tarot card of Death with a message written on it.
Cast
Series Regulars
Recurring Cast
Other Cast
| Name | Portrayed by | Role |
| --- | --- | --- |
| Roland Ebbakey | Gregory Harrison | Captain in the United States Navy. |
| Nick Rossmore | Brad Benedict | Lieutenant in the United States Navy. |
| Kara Gifford | Kelly Frye | Lieutenant in the United States Navy. |
| Peter Woodruff | Ryan Kennedy | Former Petty Officer First Class in the United States Navy. |
| Dan Campbell | Andrew Hawkes | Detective with the Metro Police Department. |
| Adam Meyers | Dante Swain | Petty Officer Second Class in the United States Navy and the main murder victim as well as Farrah Meyers's brother. |
| Farrah Meyers | Alisha Boe | Navy Petty Officer Second Class Adam Meyers's sister. |
| Jackson Edward | Makabe Ganey | A boy who appears in the episode. |
| Mother (Viral) | Melissa Greenspan | A woman who appears in the episode. |