Voices is the 8th episode of NCIS Season 15 and also the 338th episode of the entire NCIS series.
Synopsis
An NCIS person of interest in a bribery and fraud case is found murdered after a runner is led to his body by a strange voice while McGee and Delilah disagree on whether to find out the baby's sex or keep it a surprise.
Prologue
Act One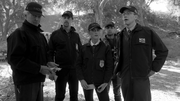 Act Two
Act Three
Act Four
Act Five
Major Events
Because of the circumstances behind Delilah's paralysis, she and McGee had a blood test to find out the gender of their baby, as an ultrasound would have caused complications to her injury.
Delilah's blood work reveals that she's pregnant with twins, one boy and one girl.
At the 40th minute of the episode, after Amber said to Gibbs that he "seemed disappointed" that she didn't hear voices, Michael Franks appears, and says to Gibbs : "Well, Probie, was she wrong? 'Cause hearing voices, seeing dead people. I don't know... Psychic seems like a better option than the alternative.". Then, Gibbs leaves his office with a smile.
Cast
Series Regulars
Recurring Cast
Other Cast